Greetings, friendz,
Thank you for all the great art and thumbs up to everyone contributing to the Open Clip Art Library! The community is blossoming.
We're very happy to report that over the last few weeks we've had a massive jump in users who give us a Facebook like, surpassing the 3,000 mark. We'd also really appreciate a follow on Twitter @openclipart or Google+.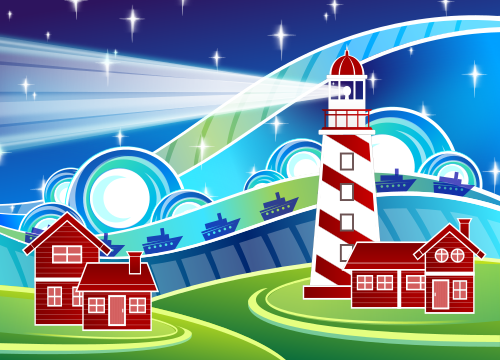 Regardless of what platform you choose you'll be able to follow current news and uploads to the ever-expanding database of YOUR art how YOU want it. We can always use your help growing our library, and thank you again in advance for telling your peers! Let's all keep the practice of sharing in the forefront of our minds.

Abstract Landscape by Viscious-Speed (/user-detail/Viscious-Speed)
What's particularly great about this Open Clip Art Library 3.1 release:
Our new favoriting system
A better landing page including more main page features and the most popular clipart.
Collections have been improved
Our server has been moved to a big linode box, thanks to gandi.net for supporting our development
We added imagebot image editing to each clipart page simpy click the "Edit Image" button on a Clip Art detail page.
Now you can set the resolution of the raster art you desire to download by entering a number into the white box on a Clip Art detail page and by pressing the orange [PNG] button. You can copy the link in that box and use it as HTML anywhere on the web.
As we look to the future, Open Clip Art Library is absolutely commited make it easier to upload, download, and share. Please participate in the development of the project today.
Please enjoy the Open Clip Art Library 3.1, and keep on sharing. Also, please consider donating to support the infrastructure which keeps our community running! We need your help to make the Open Clip Art Library the best public collection of Clip Art that "anyone may use for any purpose" in the world!
Comments closed
Montreal, May 12, 2011 – At the 6th Libre Graphics Meeting 2011 in Montreal, the Open Font Library, the Open Font Library community and Fabricatorz launch an online library of fonts that all type designers and font enthusiasts may participate in. The goal of the Open Font Library is to offer great fonts, help designers share their work, accelerate the usage of the @font-face tag available in modern web browsers, and to help educate everyone about how to design and use fonts.
The Font Library website is under active development, with the mission to bring online a veritable library of fonts to be made available under free licenses, including the SIL Open Font License, Creative Commons Zero license, and the GPLv3 with font exception license.
Fabricatorz developer Christopher Adams led the development of the site on the company's Aiki Framework. "Today marks a crucial milestone in the lifetime of the Open Font Library, from its initial conception in 2006 to its finalized public release in 2011," said Adams. "Our goal for the Font Library is not only to assemble a large collection of fonts, but to highlight quality free fonts and help others get involved in making this the best public library of fonts."
The Open Font Library received sponsorship and direction from Dave Crossland. Other major contributors to the project include Alexandre Prokoudine, Ben Weiner, Ed Trager, Eric Schrijver, James Weiner, Jon Phillips, Nicolas Spalinger, and Robert Martinez, who developed the Open Font Library logo. Initial patrons to the project include Mozilla Foundation, River Valley Technologies, TeX Users Group and Yes Logic. The Font Library has also benefited tremendously from input by participants at the Libre Graphics Meeting 2011.
The Open Font Librarians and the Fabricatorz, the global open production company, are actively seeking sponsorship and contracts to support the development of the Open Font Library towards a 1.0 release by the end of 2011. With sponsorship, there are active plans to integrate version control support for fonts on the site, allow for direct editing of fonts on the site, identify incomplete font designs and actively provide solutions, and integrate social web features into the project. More advanced features like API support for uploading and downloading fonts become possible for each additional patron who offers their support.
"The Fabricatorz stand ready to help build the world's largest collection of fonts," said Fabricatorz and Open Clip Art Library founder, Jon Phillips. With your support, use of the Library's fonts, and spreading the news of the project, the Open Font LIbrary is certain to reach this goal."
About Open Font Library
The mission of the Open Font Library (http://openfontlibrary.org) is to promote your freedom as it relates to fonts. All of the typefaces contained in the library are available under a free license, which gives you the freedom to use, study, remix and share each and every font. The site is powered by the Aiki Framework (http://aikiframework.org), a powerful web framework for building network services using the AGPL license.
About Fabricatorz
The Fabricatorz (http://fabricatorz.com) is a "open" production company that makes successful projects from start to finish, including development and community management. We specialize in Free and Open Source Software, Creative Commons technology, growing on-line and off-line communities in San Francisco, China and the Arab World. Our core focus is in developing software using Aiki Framework, hardware using Qi Hardware, and community-building around the philosophies of Sharism.
For More Information
Press Contact
Christopher Adams
press@fabricatorz.com
+1.415.830.3884
San Francisco + China
Attachments
2 Comments
Fabricatorz powered art exhibition, Cantocore: Free On Board is opening next Friday at Mission 17 in San Francisco. Check out the press release, join the Facebook group, and help spread this image around:
One Comment
This Friday, December 12, 8 PM – 12 Midnight, Fabricatorz and CPU:798 hosting the launch of the Laoban Soundsystem 1.0 with a free and open to the public event at
CPU:798 (map) in DaShanZi/798, Beijing
We invite all to come out to the launch of version 1.0 of the Laoban Soundsystem for a special Holiday Mixing Event at CPU:798. This is a new type of media event where all are welcome to join, bring media, laptops, video players, cameras, and other recording devices. The goal is to mix media, explore what artists, DJs, musicians, designers, and architects are working on RIGHT NOW — successes, failures, and rough edges are welcome at Laoban events! The ultimate plan is for consumers to be producers by both mixing media, and by tagging any recordings they have with "laoban" when posting onto twitter.com, flickr.com, or other places.
To kick off the first event, we have seeded the night with a few solid mixes including:
long2, Audio Visual Artist, http://www.youtube.com/pulpozone, http://www.flickr.com/photos/dogbee/
Ren Linxiao, Video Artist, http://www.youtube.com/user/linxiaoren
Xu Tao (dj), http://www.myspace.com/vervexu
Cai Kai (VJ), http://www.reel1981.com/blog/article.asp?id=155
RAYDESIGN (RAY + PENNYsound system), http://www.raydesign.cn
Deer Fang, Video
Jon Phillips and Matt Hope, Upcoming Laoban 2.0 Soundsystem Open Speaker Plans
Matt Hope will DJ late night
Famous Special Guests To Be Announced
WE WANT YOU! Bring what you are working on and put it into the MIX!
There will be the Laoban Soundsystem 1.0 to plug sound devices into, a projector for any videos, and free beer to provide the social lubricant for the evening.
WHEN Friday, December 12, 8 PM – 12 midnight
WHERE CPU:798 (map: http://cpu798.com/contact), DaShanZi/798 in Beijing. Once inside DaShanZi/798, head to UCCA. Across from UCCA is Timezone8 Bookstore/Cafe. Walk towards Timezone8 and down the street until the very end where you will find CPU:798 at the end of the street and the Laoban Logo/Sound.
WHO Artists, Musicians, Friends, Software/Web
TAGS laoban, beijing, experimental, art, music, dubstep, media, sharing, freebeer
CPU:798
798 Art District
2 Jiuxianqiao Lu
Chaoyang District
100015 Beijing
P.R. China
Mobile: +86 1.360.282.8624
Email: info@fabricatorz.com
老板音响系统1.0, CPU:798圣诞Mixing活动
12月12日星期五,晚上8点到12点,免费
我们邀请大家来参加"老板音响系统1.0" 的启动活动,一次在 CPU:798 画廊的圣诞Mixing 活动。这是一个新的媒体活动尝试,欢迎大家带上你们的手提电脑、摄像机、播放器或其它录制设备来参加活动。我们的目的是混合媒体,并了解艺术家、DJ、音乐家、设计师、建筑师正在进行的工作和项目,无论是成功的、失败的还是未完成的项目。计划的最终目的是通过媒体的混合,以及通过在纪录的内容(照片,视频等)上添加"老板"的标签(tagging) 并上传到 twitter.com, flickr.com 和其它地方,从而使消费者成为生产者。
时间:2008年12月12日,8点到12点
地点:CPU: 798 (map: http://cpu798.com/contact)
地点:CPU: 798 (map: http://cpu798.com/contact),798内优伦斯对面时八书店的小路尽头就是 CPU:798,将有"老板"标记。
参加者:艺术家、音乐家、软件/网络发展人,朋友
标签:老板、北京、实验、艺术、音乐、媒体、dubstep、共享、免费啤酒
Announced
As a note, please jump over to the Laoban page and you can download the plans for the first set of Laoban speakers under a Creative Commons Attribution-NonCommercial 3.0 license. You can print them out, build them, and then share what you have created with the word with the tag, Laoban, on your favorite social networking websites.
Laoban Soundsystem is an open sound system. The plans for all speakers are available on-line. The events the soundsystem participates in are media events that generate further media. Anyone who attends the events, creates the speakers, or produces content for them, please tag your work with laoban.
My old friend, Matt Hope and are having the big bass edition of the Laoban Soundsystem fabricated in HeBei outside of Beijing over the holidays. We are on the look out to work with others, teach anyone how to make these speakers, and see what things can happen by producing these speakers and events.
3 Comments
I've blogged about Cantocore launching on rejon.org, mediaexperiment.org and of course, cantocore.com. Please help us by spreading the news about the project to all your friends!
Last week we did a press barrage for the upcoming Cantocore show in Guangzhou, China! I know a lot of you are spread all throughout the globe, but nonetheless, I hope that anyone in the region can make it for the big September 5th Opening! It will be fantastic.

I wrote the exhibition text, have been coordinating fabrication, and somewhere in the midst trying to finish my project for the exhibition. We are up late right now finishing some projects and the publication is coming along nicely for the last minute print deadline for tomorrow :) Here is a sampling of the press text which you can read in full at cantocore.com:

Today the Cantocore Project and Ping Pong Space announced the upcoming contemporary art show, Cantocore: Import/Export in Guangzhou, China during September 2008. This initial show features contemporary artists from San Francisco and Guangzhou producing artwork around the more detailed relationship between import and export of culture and materials between Guangzhou, China and San Francisco. This first part of the Cantocore exhibition, Import, begins with an opening on Friday, September 5 from 8 PM at the brand new Ping Pong Space in Guangzhou, China. The show continues until Tuesday, September 16 with gallery hours of 2:00 PM until 10:00 PM daily. The second part of the show, Export, opens Sunday, September 21 at 8 PM until 10 PM when a special video screening developed by San Francisco's Mission 17 titled "Stardusted" will be presented at the Ping Pong Bar from 10 PM until 11PM. The second half, Export, continues daily until Saturday, October 4 with daily hours from 2:00 PM to 10:00 PM.

The Cantocore Import/Export exhibition examines, through applied art practice, the relationship between import and export of culture between Guangzhou and San Francisco by asking a simple phrase: Are you Cantocore? Guangzhou, also called Canton, is the third most populous city in China and its province, Guangdong, is a major manufacturer of textiles and electronics for export to the United States. San Francisco has the largest import of Chinese immigrants of any US city, primarily from the Guangdong province. Chinese immigrants also created the largest Chinatown in North America in San Francisco. However, understanding the conceptual framework of Cantocore is not limited to geographic divisions, nor reductive dichotomies driven by post-colonial stereotypes such as East vs. West, nor Olympic nationalism pridefully paramount in China vs. US "non-political" sports matches. Cantocore is the reality of life versus the theory set forth by jurisdictions where people live.

The artists in the Cantocore exhibition were tasked with creating projects which explore import and export, materially and conceptually. Practically, how can one's artwork be actualized either through fabrication locally in Guangzhou or imported from San Francisco? Guidelines for the creation of the work were left alone since modern strategies for creating artwork such as remaking, remixing, interpreting, pirating, translating, copying, and appropriating content, already espouse the Cantocore style. After the proposals were received from invited artists, curation of works took place based upon the processes, scope, location of artists and available resources to constitute this first Cantocore dialogue.

Curation for this show has been a group effort by Deer Fang, Justin Hoover, and Jon Phillips from the Cantocore Project and Wu Jay from Ping Pong Space (PPS). Layout and Design for the show is done by Pierre Picard (PPS) while wordsmithing has been handled by Nikita Choi (PPS), Jon Phillips and Deer Fang.

Exhibition Venue

#60 Xian Lie Dong Heng Lu Ping Pong Space, Guangzhou

Cantocore Import
September 6th – 26th, 2008
Opening: Friday, September 5th, 8PM – 10 PM.
Drinks after at Ping Pong Bar.

Cantocore Export
September 22nd – October 2nd, 2008
Opening: Sunday, September 21st, 8PM – 10PM

Video Screening "Stardusted" at Ping Pong Bar

September 21st 2008, 10PM – 11PM

Regular Gallery Hours
Tuesday – Sunday 2 PM – 10 PM
Gallery Closed on Monday

Ping Pong Bar Open Everyday

Also, we just updated some images of works for the show. Here is a sampling of the full post over at Cantocore.com.

For all you needing images out there, we have just up pushed out images for David Johnson who will be exhibiting a work titled "Made in China" and Guy Overfelt who is getting some magic smoke fabricated.

Please check out the press section to help blog and promote this show!
Comments closed