I have never visited a metropolitan area more creatively dense than Veinna, the sheer volume of cultural activities in such a small area is profound.
The city is walkable, there's great public transport, an easy rental bike system, and in spring the flowers and trees are going bonkers, bursting with life…
Parks are filled with folks soaking up the sun and spring energy.
I visited the Leopold Museum where they exhibited a reconstruction of Gustav Klimt's studio, a quaintly minimalist space influenced by Japanese culture surrounded by his art. In addition, the curators had placed 400 postcards written to Klimt's fashion designer and friend Emilie Flogue in glass cases that snaked through the series of galleries. The cards read like a Twitter feed in 1900's…I remember seeing as many as 3 a day.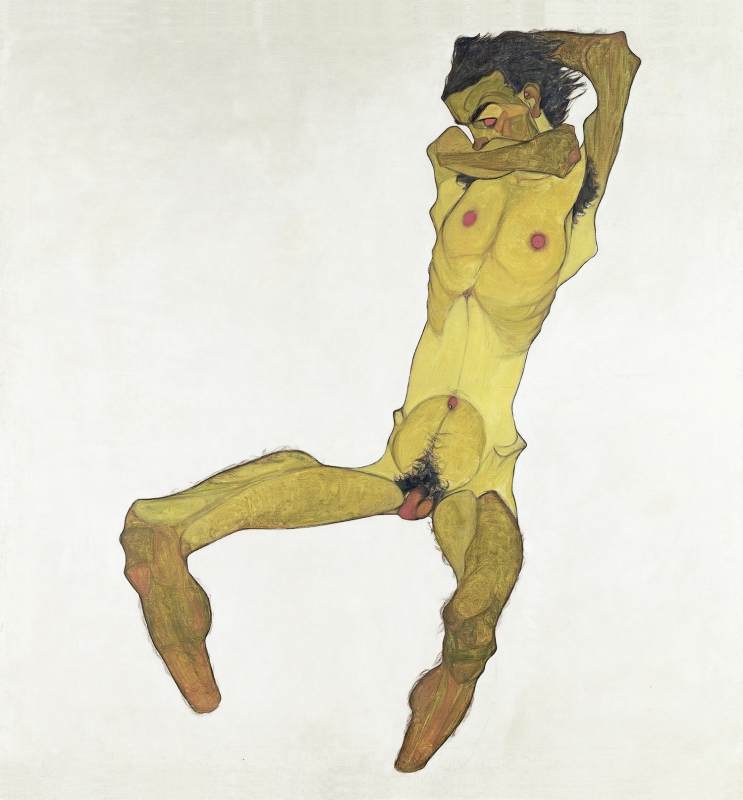 Egon Schiele, Seated Male Nude (Self-Portrait) © Leopold Museum, Vienna, Inv. 465
At the end, I was absolutely emotionally blown to bits by Egon Schiele's Self Portriat which is on the first floor on display in the permanent collection.
Inside Quartier 21 there was a free-entry tribute to John Cage entitled "Wanting to say something about John" sponsored by the TONSPUR_library.
On the back side of Mumok (where I saw the Claes Oldenburg retrospective) there is an artist in residence studio program and a HUGE variety of information on Austrian art and cultural institutions. I'm definitely applying for that opportunity at MuseumsQuartier, as the studios are contemporary spaces with amazing natural light directly in the center of the action.
Down the street is a bust of one of my favorite scientists in the central plaza of the University of Vienna. Dr. Schrödinger (who I know for his cat thought experiment) is one of my go-to philosophers along with Albert Camus when it comes to absurdity and uncertainty being the right way to look at solving problems…artistically, creatively, or otherwise.
Academic opportunities abound in the arts like the University of Applied Arts Vienna where the assumption is that the students will explore art and research together.
Photo by Máirín
One of my favorite pieces is Stefanie Wuschitz' "Looped Scroll" which reinterprets Carolee Schneemann's Interion Scroll from 1975. In addition Stefanie has established Miss Baltazar's Laboratory Female-centric hacker space also located inside the MuseumsQuartier.
I visited Schleifmühlgasse 12-14 what drew me in was Ping Pong by Nagy Anna
and Vasja Watzing. In addition Breakable Structure followed the second day.
I've already begun a list of places to go next time: I want to visit MAK – Austrian Museum of Applied Arts / Contemporary Art. and the Vienna Secession.
So if you're looking for a massive infusion of art and culture make sure to visit Vienna the next time you're in Europe. I highly recommend a week or more in this fine city.
Comments closed